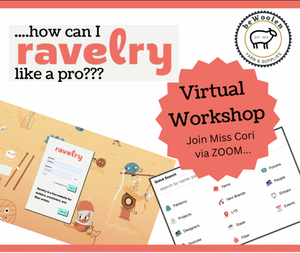 Cori Eichelberger's
ZOOM ---Ravelry Like A Pro Workshop Tuesday, September 26th, 5-8pm CST
Regular price
$40.00
$0.00
We are pleased to offer Ravelry Like A Pro via ZOOM ! with Miss Cori Eichelberger.
This class is not an in store class. You will participate in the comfort of your own home from wherever you live (as long as the WI-FI is strong!😉)
Tuesday, September 26th,  5-8 pm (CST) -$40
Ravelry is a great resource - but unless you spend a lot of time figuring out exactly how it works, it can be daunting to get to the knitty gritty. That's where Miss Cori come in:
Ravelry is useful for SO many things:
for patterns 
substituting yarns, 
cataloging your stash and needles, 
you can join groups, 
find help, 
track your projects, 
and even find discontinued yarn or books!
Material Needed:   A laptop or wifi enabled tablet;  Ravelry ID and password if you have an account; notebook and pen/pencil. 
What skills you should have: Basic computer skills. 
What skills you will learn: How to create projects, search patterns & yarns, how to catalog your stash and needles, plus more! 
Homework: Sign up for Ravelry if you don't already have an account. Make sure you remember or save your ID and password so you can log in during the class. This is a 2-3 hour class depending upon how many questions students have as class moves along.
---