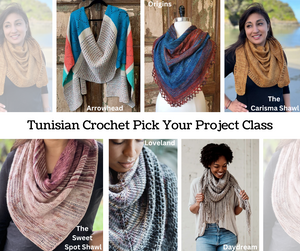 beWoolen
Learn to Tunisian Crochet Your Next Project - starts October 16
Regular price
$60.00
$0.00
Learn to Tunisian Crochet 

Your Next Project:
$60 Class fee plus supplies.
Yarn for class must be purchased at beWoolen; save 10% on your yarn for class.
October 16, 23, 30, Nov 6
This is a "next step" class if you already know how to Tunisian crochet, and are comfortable with the basics of Tunisian crochet: cast on, simple stitch, return pass.
Put your Tunisian crochet skills to work while you craft a new project of your choice (see the list above). Click on the name of each to see the details in Ravelry, or choose any pattern that you've had your eye on. You may even decide to make several smaller projects, learning the skills you need as you go.
Your chosen pattern purchased and printed, yarn purchased and wound prior to class; Tunisian hooks and notions will vary per pattern. We are happy to help you select and gather all your supplies.
---