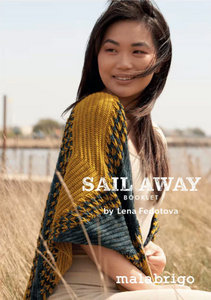 Malabrigo
Sail Away Booklet by Lena Fedotova
Regular price
$14.00
$0.00
This is the first women's wear book for crochet from Malabrigo!  With a concentration in Mechita, Rios & Sock yarns, the most popular Malabrigo yarns, you will find amazing colors, textures and patterns to knit.

Malabrigo mixes classic pieces with vibrant styles and colors to curate a collection of patterns that will let you create remarkable knits again and again no matter your skill level.  Explore gentle fairytale colors or vibrant explosions of color in Malabrigo's wide range of kettle dyed yarns including tonal solids, variegated, and speckled colorways.  With more than 100 semi-solids and multi-colors in each yarn, the possibilities for personalizing your project are endless!

These luxurious yarns are made from 100% Uruguayan superwash merino wool for easy care.  The wool comes from sheep raised in Uruguay, a beautiful country with a long history of hand crafting.  
Dunwich Cardigan in Rios

Felixstowe Cowl in Sock
Heacham Top in Sock
Holkham Snood in Rios
Lowestoft Pullover in Sock
Wells Shawl in Mechita (Cover) 
---