• Cascade Cantata • Daisy Wrap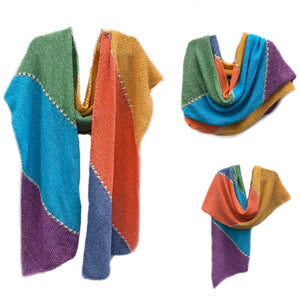 Two designs by beWoolen that explore the use of happy + fun color combinations, various stripe sequences, plus simple knitting techniques to get us through the next weeks. Join us as we "Zoom" for the next month - until we can (fingers crossed) be with all of you again. We have focused these designs on a few wonderful Cascade yarns that are easy to work with, as well as easy on the pocketbook - we are so pleased to be able to share these designs with all you for free at this time as a way of expressing our thanks to...
---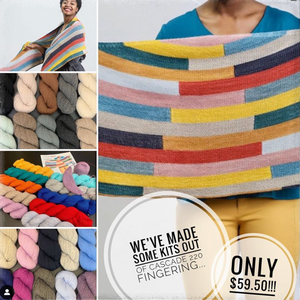 We are hosting a virtual KAL for the colorful and gorgeous Number 10 shawl.
Please join us in our Ravelry Group thread for sharing your progress, asking questions, and just chatting and getting together as we work on this fun striping pattern.
The kits that we put together are in Cascade fingering weight yarn - a bright and colorful kit, a neutrals kit, and a blue and purple kit. Please feel free to contact us if you would like to purchase one; or if you would like us to put together something just for you! We do have a variety of other yarns that would be beautiful in addition to the Cascade. Note - pattern is not included; but can be purchased as a digital download on Ravelry.