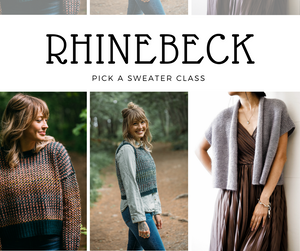 beWoolen
Rhinebeck Sweater Class Thursdays, Sept 14, 28, Oct 5 & 12 6-8pm
Regular price
$60.00
$0.00
Rhinebeck Sweater Class
....choose any sweater pattern!
Instructor: Michelle C
4 Sessions
$60 Class fee plus supplies.
Yarn for class must be purchased at beWoolen; save 10% on your yarn for class.
Thursday 6-8pm
Sept 14, 28, Oct 5, 12
Click on the name of each sweater for more details in Ravelry; feel free to select a pattern not on the list. 
Moonlight Cardigan by Minimi Knit Design
Angel and I worked up our Moonlight Cardigan in soft and lofty Pigments Cloud. This top down cardigan has a little bit different top-down construction that takes some concentration, the end result is worth it: it's almost totally seamless! You can modify the finished length as you try it on - great for layering over any outfit, with a wide range of sizes available.
Tessellated Vest or Pullover by Andrea Mowry
We cannot get enough of this simple, slipped stitch pattern! Depending on if you choose high or low contrast colors, it completely changes the look. This comfy, drop-shoulder pullover is the perfect way to showcase this beautiful stitch in the color combos of your dreams.
Both patterns are worked from the bottom up. The body is worked in the round until the divide for the yoke. The remainder is worked flat, and the shoulders are finished using the 3 needle bind off. The sleeves are then picked up from the body and knit in the round down to the cuff.
We think Edition 3 paired with Amble and Pigments Cloud would all work wonderfully well together, or drop in to see a plethora of additional options.
Materials & Homework:
Needles for gauge, pattern purchased and printed, notions and supplies as needed per pattern. Homework is to make a gauge swatch that we will look at in class prior to casting on for the project.
---