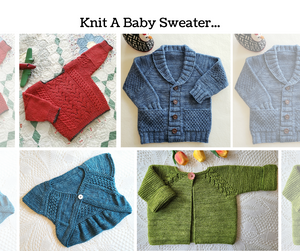 beWoolen
Knit A Baby Sweater
Regular price
$50.00
$0.00
Norwegian Fir Top Down Cardigan
$50 class fee plus supplies.
Join Miss Susan to knit a baby sweater! Click on the name of each to see the pattern details in Ravelry - each little sweater uses the same techniques as an adult sized sweater, so these smaller scale projects make for wonderful building blocks of learning in sweater construction. 
Adorable seamless shrug that knits up in no time and uses very little yarn… Features a fun and easy textured pattern. This shrug is knit seamlessly from the top down to the armpits. The raglan cap sleeves are then bound off and the back stitches are worked together with stitches picked up along each front raglans to form the body in one piece.
This cardigan is worked seamlessly from the top down and features knitted-in pockets. The sleeves are separated from the body at underarm level, then worked in the round. They feature textured "faux" elbow patches. Stitches are picked up along the fronts and the neckline to work the shawl collar and button bands in once piece. The shawl collar portion is shaped using German short rows. The pocket linings require some seaming.
Baby Gansey is knit in the round from the bottom up, starting with a contrast color cast on. The sweater is split at the armholes and from that point is worked back and forth.
The front and back are identical, except for buttonholes at the shoulder, so it can be worn either way. The sleeves are meant to be slightly long to enable longer wear. There are two ribbing options provided: 1x1 and Seed Rib. Instructions for the Center Panel are both charted and written.
Norwegian Fir Top down cardigan:
This seamless little top down cardigan is worked in garter stitch with a simple, effective raglan pattern which adds just enough interest when knitting. 
Casting on, gauge swatch, increasing, decreasing, knitting in the round, picking up stitches, working short rows, binding off, finishing techniques.
Purchase and print the pattern, choose yarn and allow time for winding it up, needles and notions appropriate for each pattern. We are happy to help you gather all of the supplies you will need. Enjoy 10% off yarn for class.
---