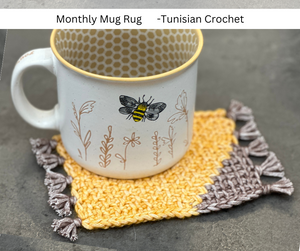 beWoolen
Tunisian Crochet Workshop: Monthly Mug Rug - October 1st
Regular price
$45.00
$0.00
$45 Class fee plus supplies.
Join Miss Alea one Sunday of every month to advance your Tunisian crochet skills. Each month will bring you a new mug rug design in a stand-alone workshop. You will receive the pattern included with your class fee. Designs will be revealed one week prior to the beginning of the next month. 
Basic knowledge of Tunisian crochet is required (cast on, simple stitch). 
At the end of class, it's possible you will have your project completed.
Varies with each class, every mug rug will introduce new stitches or techniques.
Tunisian 5.5mm crochet hook with a 5" to 8" cord and end stopper, Cascade Hampton yarn in 2 or more colors (number of colors used may vary each month). Yarn for class must be purchased at beWoolen; save 10% on your yarn for class. 
---