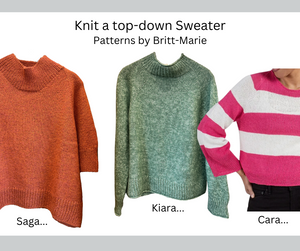 beWoolen
Knit a top-down Sweater your choice of: Saga, Kiara or Cara
Regular price
$60.00
$0.00
Knit a top-down Sweater your choice of:

Patterns by Britt-Marie
Instructor: Andrea H. (6)

4 Sessions
$60 class fee plus supplies.
Sunday 2-4pm
Dec 3, 17, Jan 7, 21
On the heels of our Fall into Fall weekend, we are totally smitten with these sweater patterns by Britt-Marie. If you are looking for a classic wardrobe staple - look no further! Treat yourself to some scrumptious yarn and class with Miss Andrea. Choose one of the top down sweaters on the list - click on the name for pattern details in Ravelry. Each pattern offers techniques such as: short row shaping, increases, sleeves held until the body is complete and then are picked up and finished. Andrea will walk you through fit details:  taking into account your preferences for overall finished length, ribbing details and finished sleeve length.

We can highly recommend using Pascuali Puno or Puno Winikunka PLUS Pascuali Manada or Mohair Bliss (each pattern uses yarn held together) to create a luxurious fabric. Feel free to choose other yarns to obtain gauge: We are happy to help you with a combination you will love when you drop in to shop before class starts. 
Materials:
Purchase and print your pattern, needles for gauge, notions as needed per pattern, and yarn combination gauge swatch. you'll get 10% off your yarn purchase for class.
---