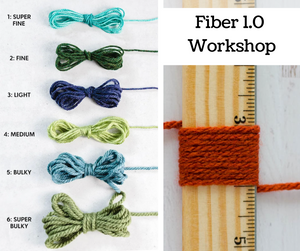 beWoolen
Fiber 1.0 - Learn about Wraps per inch, Fiber content, and more! Sunday, Sept 24th 11:30-1:30 pm
Regular price
$40.00
$0.00
Fiber 1.0 - Learning about fiber workshop
$40 class fee, includes supplies
Sunday 11:30-1:30pm
Sept 24th
Join Miss Alea in an exploration of yarn! We will be doing a deep dive into yarn and how it affects your projects. This class is perfect for people who want to gain a deeper understanding of fiber, and for people who are new to fiber arts. Knitters, crocheters, Tunisian crocheters, and those interested in learning more about starting to work with fiber are welcome.
Topics that will be covered:
Yarn Weights

WPI - wraps per inch and why this matters

Fiber Content 

Ply

Yarn Substitutions
For this class you do not need to bring anything. Yarn samples & wraps per inch Gauges will be provided.
Note: This is NOT a learn to knit/crochet/Tunisian crochet class
---